Why
Cheap and fast has had its day, and it's now really becoming a problem. We've got to do away with cheap and fast, and start being and travelling with intention. VoyageVert is a project to actually teach, embody and exemplify the commonly lip serviced adage;
"Be the change you want to see in the world"
Why would anyone take two weeks to cross the Atlantic when you can fly in ten hours?
The symptoms of overly stressed, fatigued humans are everywhere.
Take your time – slow down arrive with intention. VoyageVert is an opportunity for the ecologically conscious traveler to move about the world.
Carl Honore, in his book 'In Praise Of Slow' tells us the details of the slow movement concept. By taking the time to take our time, by not rushing and busying ourselves to the point of disconnection and illness we reap the a paradoxical benefit of more productivity and happier healthier lives.
Ross – VoyageVert Founding Director:
"I am personally on the receiving end of this philosophy – I spent years telling people 'I'm too busy'
Bounding around on a high of adrenaline and caffeine meant I was sometimes unfocused scatty and permanently tired. I have a more spacious relaxed manner of being means the actual work that needs to be done has priority. I'm resourced, I sleep! Which means I'm more productive and happier."
In addition to being an example of what's important in life there are more pragmatic reasons why we should not use aircraft to 'teleport' ourselves around our beautiful blue planet.
Airlines enjoy universal exemption from fuel taxation, estimated over €60 billion globally
Airlines are bailed out on a regular basis, lenient state aid rules for airports have been regularly flouted; worth another estimated €3 billion a year in Europe alone
Manufacturers receive a €1.8 billion subsidy under the 'Clean Sky 2' joint technology initiative;
Air traffic control receives a €3 billion subsidy under the SESAR 'joint undertaking'.
These subsidies skew the individual's perception of true cost of flying and therefore encourage a frivolous attitude to jumping on an aeroplane
"If one flies from London to New York and back, the CO2 emissions for every seat cause three square meters of sea ice to disappear and there were 6 BILLION flight seats available in 2015."
When either the environmental costs or government subsidies start to be passed on to the consumer VoyageVert will be so much more than the next big thing!
In the interim there is already a large market of people who already believe that flying is no longer an option for environmental reasons. This is a growth sector – as catastrophic weather events and food availability begin to demonstrate that the world is suffering from humanity's excesses more and more people will realise that frivolous flying is not sustainable.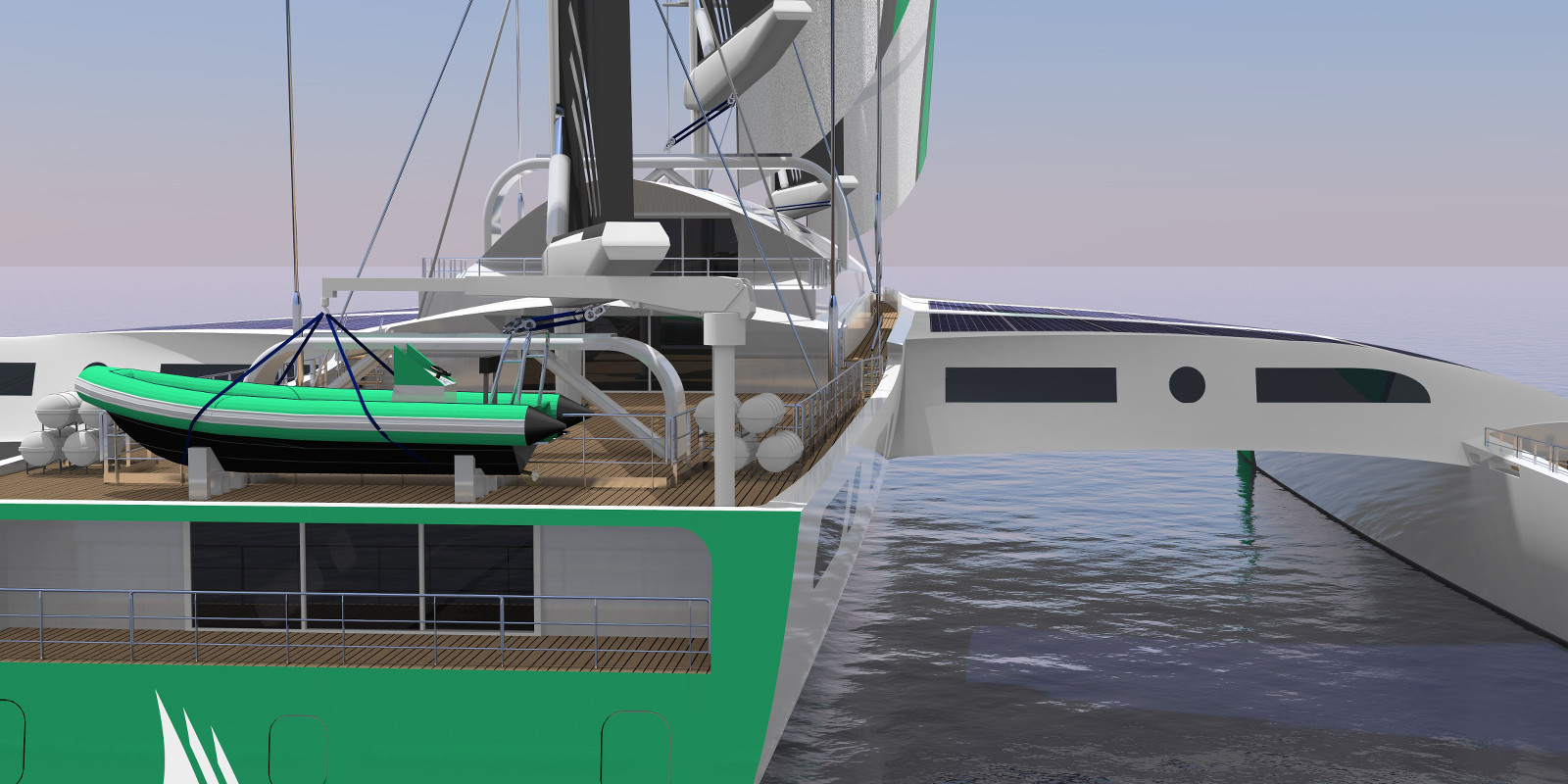 What
We are selling 12 passenger ferry tickets to those who want to get on a yacht with us to sail from A to B. At point B another 12 tickets are sold onward to point C and so on.
The pilot project will indicate route uptake, market interest and basic viability. Once VoyageVert have completed the pilot phase of the project and we can scale our designs our ticket prices will fall markedly and therefore more within the affordability of the those who are waiting to use our services.
We need our pilot project to prove with a modern fast modern yacht that we can prove which routes by sea are popular and viable. So we can attract investment in our Concept Yacht.
The operating company for this venture is a not for profit Community Interest Company which is halfway between a charity and a normal Limited Company. We have chosen to be not for profit at this stage as a demonstration of our ethics as a Social Enterprise, remember the reason for this project is to remind people to slow down and also because any profit needs reinvesting to allow us to research and develop the future of sustainable travel.
Whereas the company that owns and refurbishes the yacht will be a more conventional Private Limited by Shares – there is a significant capital gain to be made in refloating Team Adventure and as this project on its own needs significant investment to realise what will be one of the most exciting work boats ever conceived – and therefore a more conventional structure is needed.
T&E: After Boeing ruling, aviation needs to go cold-turkey from subsidy addiction